| | | | |
| --- | --- | --- | --- |
| PbP SF Announces 2013 Partner - Kearny Street Workshop | | | |
MAY 17, 2013 – San Francisco, CA – Project by Project San Francisco (PbP SF) is a 501(c)3 non-profit organization that supports non-profit organizations creating a positive impact in the Asian American community. Each year, the three chapters of Project by Project (PbP) decide on a theme and select a local non-profit organization supporting the Asian American community as its partner. In the spirit of PbP's 2013 theme of The Arts, PbP SF announced today that it has named multidisciplinary arts organization, Kearny Street Workshop (KSW), as its non-profit partner.
Founded in 1972, KSW is the oldest Asian Pacific American multidisciplinary arts organization in the country. In 2013, the volunteers of PbP SF will work to further KSW's mission of nurturing intergenerational, cross-cultural, multidisciplinary artistic activities that honor the historical and cultural heritage of the Asian Pacific American (APA) community within the Bay Area. Throughout the course of the year, PbP SF will work to raise public awareness for KSW and help support the return of KSW's signature arts festival, APAture, which will examine the work of emerging APA talent in film/video, literature/book arts, music, performance, visual/installation art, and experimental media. On September 14, 2013, KSW will be featured as the beneficiary non-profit at PbP SF's annual food and wine tasting benefit, Plate by Plate, at City View in San Francisco.
PbP SF serves the San Francisco Bay Area and 2013 will mark the organization's fourth year in support of positive causes in the community. Past partners include APA Family Support Services (2010), Oakland Asian Educational Services (OASES) (2011), and Project by Project (2012). Through partnerships with these local non-profits, PbP SF has raised awareness for each of these organizations through fund-raising activities and by highlighting each as the partner non-profit beneficiary for the organization's annual Plate by Plate benefit event. PbP SF is looking forward to activating even more young professionals this year to engage them in supporting KSW and issues related to this year's theme of The Arts.
---

About Project by Project
Project by Project was founded in New York in 1998 and expanded to Southern California in 2001 and the San Francisco/Bay Area in 2009. Since Project by Project was founded, it has partnered with more than 20 other non-profit organizations and built a volunteer base of more than 1,500 individuals nationwide. Each chapter of Project by Project partners with a different under-served non-profit organization every year to provide services such as fundraising, marketing/public relation consulting, event planning, strategic consulting, and recruiting.
For more information about volunteer opportunities and upcoming events with Project by Project, please visit www.projectbyproject.org.
| | | | |
| --- | --- | --- | --- |
| PbP SF Presents - Wine Bus Tour 2013 | | | |
PbP Wine Bus Tour 2013
Saturday, May 04, 2013 from 8:30 AM - 5:00 PM (PT)
Project by Project SF (PbP SF) would like to invite you and your friends to our 4th annual wine country bus trip! This all day tour includes fun and informative wine tastings at 3 wineries and a delicious lunch and wine pairing at Peju Provence Winery. We provide the transportation via a 30 person chartered bus, snacks and beverages, lunch, and hosted private guided tours of some of Napa's finest wineries. Below is the full itinerary and links to the wineries that we have reserved for this trip:
Location: Alpha Omega Winery, Peju Province Winery, and Black Stallion Winery
Date:
Saturday, May 4, 2013 at 8:30 a.m.
8:30AM

Meet at the Safeway on 1335 Webster St (at Geary)

10:00AM

Arrive at Alpha Omega Winery for wine tasting

12:00PM

Arrive at Peju Provence Winery for a private lunch with wine pairing

2:00PM

Arrive at Black Stallion Winery for wine tasting

3:30PM

Depart back to San Francisco

5:00PM

Arrive back at the Safeway on 1335 Webster St

(at Geary)
All inclusive - $100 pays for transportation, refreshments/snacks, lunch with wine pairing at Peju, and wine tastings at Alpha Omega Winery and Black Stallion Winery.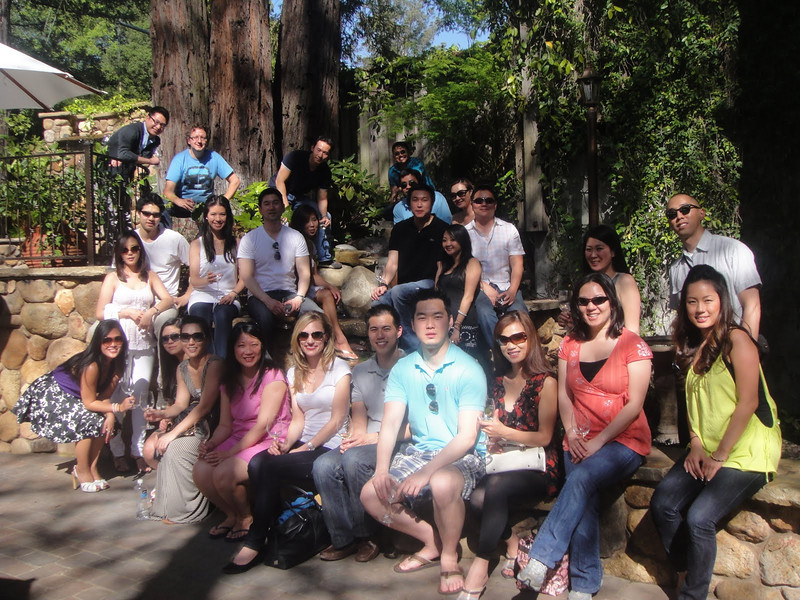 Visit our gallery for additional pictures from our last two events: Wine Bus Trip 2010, Wine Bus Trip 2011, Wine Bus Trip 2012
This event is open to all but space is limited, so act fast…and get your ticket!
For more information on this event, please email This e-mail address is being protected from spambots. You need JavaScript enabled to view it .
| | | | |
| --- | --- | --- | --- |
| PbP SF Presents - 2013 Kick Off Happy Hour | | | |
2013 Kick Off Happy Hour @ Taverna Aventine
Thursday, April 18, 2013 from 6:00 PM - 9:30 PM (PT)
Join Project by Project SF (PbP SF) for our first mixer of the year! We will be announcing this year's non-profit partner theme, as well as introducing members of our 2013 PbP SF Team! Come learn more about PbP, meet our team and volunteers, and learn about how you can volunteer/get involved. This is a public event, so feel free to bring your friends and enjoy cocktails, eats and conversations with us!
We are excited to be hosting our Kick Off Happy Hour at Taverna Aventine and have reserved their downstairs lounge. We hope you can join us!
Special Thank You to Taverna Aventine for hosting this event!
582 Washington St
San Francisco, CA 94111
(415) 981-1500
FREE ADMISSION (donations accepted!)
https://www.facebook.com/events/157991847698112/
http://www.eventbrite.com/event/6022057135/efbevent
To learn more about Project by Project, please visit www.projectbyproject.org/sf. For more information on this event, please email This e-mail address is being protected from spambots. You need JavaScript enabled to view it .
We look forward to seeing you there!
| | | | |
| --- | --- | --- | --- |
| Project by Project SF: OASES and EBAYC Merger | | | |
Project by Project SF 2011 Partner Update: OASES and EBAYC Merger
Project by Project (PbP) San Francisco is proud to announce that its partner for the 2011 campaign, Oakland Asian Students Educational Services (OASES) is merging with another long-standing organization, the East Bay Asian Youth Center (EBAYC).
The joining of these two Oakland-based organizations with deep history in the East Bay creates greater possibilities to leverage existing partnerships and programs to benefit more youth and their families. "We are excited about the opportunities that the combined organization can pursue and the impact it can have on its constituents," said Nhi Chau, OASES Executive Director. Project by Project continues to support OASES through volunteers, fundraising, and assisting with creating awareness, and looks forward to working with EBAYC as well. "Both organizations share common values and as a combined entity can have a much greater reach in the community," said Victor Masaya, current Project by Project Steering Committee member and OASES Board member.
For supporters interested, a celebration of the merger will be held on November 8, 2012, from 5:30 pm - 8:30 pm at Scott's Seafood Restaurant located at the Jack London Square Center in Oakland.
Location: Scott's Seafood Restaurant
2 Broadway
Oakland, CA 94607
510.444.3456
Date: Thursdsay, November 8, 2012 5:30PM